Briarcliff High School
Class of 1965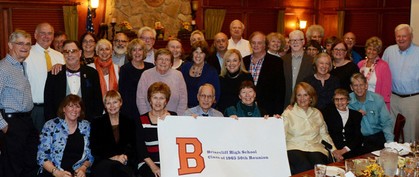 50th Reunion Recap!!
October 23-25, 2015
How is it possible that 50 years have passed? We graduated from Briarcliff, June 25, 1965, and in a blink of an eye here we were celebrating lifelong friendships, love, travel, work, successes, sorrow, hobbies, spouses, partners, families, kids, grandkids, politics, health, aches and pains, wrinkles, hair color and hair loss….and memories, lots of memories!!
Nearly a year of planning with a small group culminated in a fun weekend of sharing life events, laughing and teasing….but mostly we were thankful to be together. We truly missed our classmates who couldn't be there, and those who have passed away.
On Friday afternoon we arrived at the Comfort Inn in Hawthorne where hugging, shrieks and shouting began in the lobby. Within an hour we moved on to our Pizza party…with more shrieks, laughing and hugs! "Wait a minute, are you Barbara Lauten?" "Are you Ken Russell?" And Anne Purdy said to Teddy Bridgwater, "hey, I guess they don't make Grecian Formula in red!"
Paul Weinman completely overwhelmed and surprised us by strolling in accompanied by his son Steve. John Sternbach arrived with his ever-present unlit cigar and cowboy hat. Mac McCloskey hobbled in on a cane but smiling having had a hip replaced recently. Charlie Di Perna brought a piece of the old BHS building. Jeanine Caltagirone displayed her girl scout uniform (she refused to wear it!). Ruth Sharak added her sash with badges (one was for making a bed!). Tom Gilmore confessed to having his mother arrange a coke date with Dorothy Duncan in the 5th grade, and Mac said he once kissed her - or was it just her? Tom also shared copies of his photos from the very fun Gilmore Camp reunion in 2003. Many laughs and bottles of wine later we were off to our rooms where some of us stayed up half the night reminiscing!
On Saturday we spent the afternoon touring Kykuit, the beautiful hilltop home to four generations of the Rockefeller family, beginning with John D. Rockefeller, founder of Standard Oil. The home overlooking the Hudson and the fall colors made for lots of picture taking and oooohs and ahhhhs.
We then raced back to the hotel where Mac and Charlie were hosting a happy hour with left over pizza, snacks, beer and wine from the night before. A quick change and we were on our way to the Briars for dinner and our big celebration!!
The tables were decorated festively with fall flowers and blue and orange ribbons (compliments of Jack Rouchaud, Gaff's husband). As classmates arrived there were more exclamations of "Are you really Noel Wheate?" "Are you Karen Bush?" Pete Guilmette, BHS '59 and family friend of the Mulligans surprised Pam with a quick hug. And, then our honored guest arrived. Mrs. Weinberg who, at 96, is still full of fun, and as she said, thriving because "only the good die young!!"
Fortunately we hired a photographer who was good at herding cats so several all-class, "lifer" and spouses/partners photos were taken, along with random party shots. For those of you who were unable to be there click on the "50th Reunion Gallery" on the website and try to guess who you see!!
Our emcee, Steve Cilfaldi, attempted to keep a formal agenda going but as the evening progressed he was interrupted many times by impromptu "speeches," including Jeff Cannell who said we should celebrate our 55th ! Did we hear an offer of leadership??? Peter Rush described his recently published book, "Hidden in Plain Sight," about who really wrote Shakespeare's sonnets (available on Amazon). Barbara Leyden and Pam Mulligan read a poem they wrote just for the occasion. Nancy Swalley led us in "Cheers, Cheers for Old Briarcliff High," followed by an awesome cheer by Gail Morrison, who almost did the splits in her pencil skirt! Tom Gilmore honored our amazing and heroic athletes at BHS. And, finally, Mrs. Weinberg told several stories, one about a certain inebriated teacher. Hmmm??
We all held our breath when Gaff and Lynn Carter carried the reunion cake around the room so everyone could see it. After eating that fabulous cake we watched a beautiful and emotional video made by Liz Rogers' son, Will, with Peggy Johnson where she told the story about being in East Berlin with her daughters and Dianne Yost in 1989. Nearly losing one of her daughters in the huge crowds they finally witnessed the historic fall of the Berlin Wall.
Following that, Nancy showed a slide show she created complete with 50s and 60s music and photos, beginning with our first grade class and including many others from our yearbook, our 37th and 40th reunions, 60th and 65th birthdays and other events. Wow we were so cute!! Click on the link "50th Reunion Slide Show" on the website.
The ever-partying party animals Mac and Charlie invited us back to their room for a nightcap, music and more reminiscing. We even called Tommy Friese who joined us by phone for a few minutes!
Sunday morning came pretty fast and we ambled down the hill to the Central Diner where we consumed copious amounts of coffee and laughed a bit more. Linda lost her voice but smiled along as stories were repeated, and general agreement that we should get together again in five years!!
After lots and lots of hugs we went our separate ways, some for nostalgia tours of Briarcliff, our former homes, and a peek at the new high school. Nancy, Lynn and Judy even visited Audrey Graham (Christine's mom), piano teacher to many of us, who still lives on Horsechestnut Road, is 96 and plays the piano every day! Some of us also discovered that it's impossible to buy a roast beef wedge in Briarcliff on a Sunday afternoon! Darn! And, that the volunteer fire department still has white fire trucks that race through town after the horn siren goes off!
So what's next? We're hoping we can do it all over again when we celebrate our 55th Class Reunion!! So stay tuned! We have extended the web site for another five years so we have lots of time and space to add photos and other mini-reunions. Feel free to contact Nancy Swalley at njnelson47@sbcglobal.net if you need any help with the website or uploading photos.
A big thanks to the team who made it all happen: Ted Bridgwater, Jeanine Caltagirone, Lynn Carter, Steve Cifaldi, Dorothy Duncan, Ann Gaffney, Anne Purdy, Ruth Sharak and Nancy Swalley.
Here's to the Class of 1965, the best class ever at Briarcliff High School!!
ANNOUNCEMENTS
January 7, 2017 - Obituary, New York Times
WEINBERG--Marian Schaap, beloved mother, grandmother and great-grandmother died at age 97 on Saturday, January 7, 2017 at Kendal on Hudson, NY. Marian graduated from Smith College with a BA in Mathematics, received a Masters of Education from Columbia University and an MBA from Pace University. She was constantly learning, loved computers, and is remembered fondly by her math students at Briarcliff High School. One of her proudest accomplishments was helping her husband Jay in founding Corporate Angel Network. She was loved by everyone she met, had unlimited energy and ate M&M's daily to ensure a long life! Contributions may be made to Corporate Angel Network http://www.corpangelnetwork.org